Ayurveda Correspondence Course
This course is available only in German language!

The special thing about our Ayurveda Health Consultant Course is that you can learn the theoretical basics - which make up the main part of an Ayurveda training - from home. With our study program, you divide your time freely and also have the opportunity to consult with the experienced and qualified training director Mark Janku at any time. You thus enjoy the advantage of direct personal support and can still study comfortably at home.

Basic Course
The basic course should enable you to understand the interaction of the bioenergies Kapha, Pitta and Vata as well as to recognize the Ayurvedic constitution of a patient and to give advice on the harmonization of bioenergies and the constitution. This includes advice on health, such as nutrition, color theory, favorable time qualities and advice on life situations, such as career choice, place of residence and partnership.
Advanced Course
The advanced course gives you the opportunity to recognize bioenergy disorders and the resulting diseases and to recommend treatment methods of Ayurvedic medicine. These include, for example, medicinal herbs, oil cures or oil massages and pancha karma therapy as well as methods for mental/emotional strengthening and harmonisation.
Ayurveda Internship
The Ayurveda internship serves to enrich your acquired knowledge with practical experiences. The internship should last at least 5 days or 30 hours. You can divide this period according to your individual needs, e.g. you can do one day per week for 5 weeks, or 10 days for 3 hours each. You are also free to choose your internship position – however, we will provide you with a guide with tips in the study documents, which also contains a list of possible internships that you can use if required. Finally, you write a 5 to 10 page report and send it to the head of the study to review. In this way you can complete the practical part of the training as an Ayurveda health advisor in a very individual and flexible way. The Ayurveda distance learning course of the Vedic Academy offers you maximum individual flexibility and freedom.
Final Diploma of the Vedic Academy
After successful completion of the complete course you will receive a final diploma of the Vedic Academy as proof of your achievements and acquired knowledge.
| | | |
| --- | --- | --- |
| Ayurveda Basic Course | 6 months | € 990,- (6 x 165,-) € 891,- (6 x 148,50) |
| Ayurveda Advances Course | 6 months | € 990,- (6 x 165,-) € 891,- (6 x 148,50) |
| Ayurveda Basic & Advanced Course | 12 months | € 1.800,- (12 x 150,-) € 1.620,- (12 x 135,-) |
This distance learning course is payable in 6 monthly installments. (Please select "payment in advance" pro forma in the order form.)
Registration Form, Terms and Conditions, Prices >>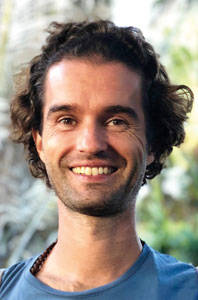 Devadas Mark Janku - Your Ayurveda Instructor
Born in Stuttgart in 1983, Devadas began meditating at the age of ten and has been interested in naturopathy since his youth. After graduating from high school (2003), the Bhakti Yoga Way inspired him deeply and shaped his life from then on. He then lived for two years in Krishna temples and made five pilgrimage and study trips to India. In 2006 Devadas graduated from the Vedic Academy under the direction of Reinhart Schacker and completed an Ayurveda internship in India. In the following years he carried out Ayurveda health consultations, as well as Ayurveda seminars and completed further training as a yoga teacher (2009), meditation teacher (2010) and certified psychological Ayurveda consultant (2012). Since January 2010 he is in charge of Ayurveda distance learning at the Vedic Academy. A passionate mantra musician, Devadas has released several CDs to date. He is also the author of a book and gives various yoga and mantra seminars.